New England Knits has arrived!
This book has been the talk of the knitting town for some time now, and now you can have your own copy! We tried to come up with a book review for it, but it's been reviewed so much since it was put on Amazon's pre-order list and buzz began on Ravelry that we'd rather link to
one of those reviews
. We'll just show you some pictures!
The book has patterns that feature a few yarns we carry here in the shop:
Here we have the Greylock Tunic in Rowan Purelife Organic Wool....
...the Lewiston Striped Vest in Cascade 220 (and with all of the colors we have of this yarn, you'd be hard-pressed to not find a combo. Maybe Cascade isn't your thing?
Rowan Calmer
,
Manos Rittenhouse
,
Swans Island Worsted
, O
-Wool Balance
,
Nashua Creative Focus Worsted
, Noro Kureyon,
Shirakaba
,
Retro
, (do I really need to name all of the worsted weight yarns that we have in this shop that could work for this pattern?!?) & Dream In Color Classy will also work for this cute vest. The button hunt for this project might be just as fun as picking out the yarn.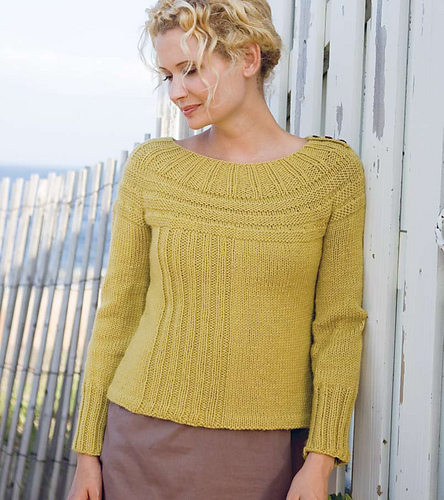 The worsted weight patterns continue! This is the cover sweater, the Middlefield Pullover.
The Mystic Pullover is worked in the Fibre Company's
Organik
. Check out that side pocket detail? You like?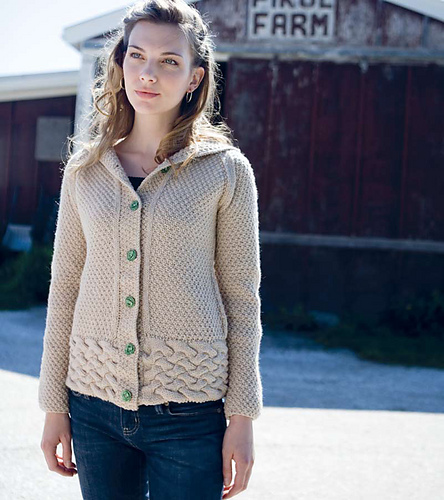 The Providence Pullover is worked in O-Wool Classic, which is soon to come to Rosie's! If you can't wait, we have a bit in stock in large amounts at a really nice discount. Just pop in and ask for the really huge skeins of yarn....we'll point you in the right direction.
The Salem Hooded Jacket features the Manos del Uruguay
Wool Clasica
. Could you ask for anything warmer to wear this Fall/Winter season? That hood, the A-line shape, the
texture
.....I'd probably enjoy knitting the fabric more than wearing it!
Last but not least, we have the Whale Watch Hat by Kate Gagnon Osborn (go Kate!) It takes 1 skein each of
Canopy Fingering
in Orchid, Fern & Macaw. You don't get 241 hearts on Ravelry with just any ole design!
So there you have it. Speaking of books, we have a new book shop on Amazon.com! We have a few back issues of magazines & older books on sale, but have been adding other books over the past few days and will be adding even more books. We'll still keep our yarn company books (i.e. Rowan, Classic Elite Yarns, Noro, Berroco) on the website, but most of the other books that come through the store will be available
here
! Keep your eyes peeled for some other new designs we have up our sleeve....heh.